Financial Planning
Our clients today have a range of financial objectives and challenges including:
How much money do I need to ensure I can live out my life in my chosen lifestyle?
At my current rate of investment, am I saving enough for the future?
Does my investment / pension portfolio reflect my appetite for risk?
Am I optimising the use of all of my financial resources?
Are my family / my business secure should an unforeseen event happen?
At Personal Advisory Services, we help people to identify their financial objectives, and ultimately to achieve them. To do this, we believe that successful financial planning is based on 3 core themes;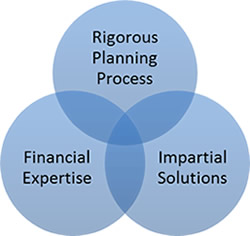 Rigorous Financial Planning Process
Our structured financial planning process helps you to understand your financial goals, to identify your appetite to take risk in setting out to achieve these goals and it helps you to see a clear roadmap as to how you will achieve these goals.
Financial Expertise
Our backgrounds in accountancy, tax planning and financial control play an important role in our financial planning approach. These skills help us to take a very objective view to your personal financial situation and to then build bespoke recommendations and solutions that are tax efficient and suitable for you.
Impartial Solutions
Sometimes we will recommend a financial product for you. We have no ties to any bank, insurance company or fund management business, which allows us to place our clients' interests at the heart of our advice proposition and to always find a suitable product to meet your needs.